Since the day 3D printing became widely popular, the possibilities have become endless. But with the limited resources, the earlier stages were tough to generate anything we wished for in a 3D Printer.
Fast forward a few years, 3D Printing enthusiasts started educating themselves. The community started to grow as they get connected from across the world and explored further. The Industry just boomed from then on.
Thingiverse is one of the earliest and world's biggest Opensource platform for 3D Printable things. The largest opensource platform for User-generated content mostly for DIY tech, the maker community, and also 3D Printers.
The site contains a wide range of open-source 3D printable files to explore for your curiosity and experiment. You can simply download and print those files you wish to or you may experiment yourself by mixing different designs. Make, share, and Discover; the platform has been structured on these three phenomena.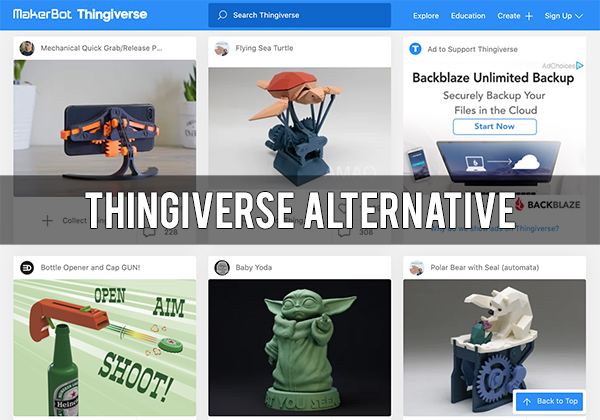 If you are just trying to start a career in 3D Printing, you may jumpstart to the 3D Printing education section to get started with. They have got plenty of starting tutorials for the newbies. You can join different groups to participate in discussions with other designers. Learning first hand by open discussion can be another great resource. Just like any other social media, you may follow the designers on the platform to see what they are up to.
As your expertise will grow within time, I assume you will be looking for more platforms like Thingiverse. And thankfully in a growing industry of 3D printing, Thingiverse is not the only one.
The Best Thingiverse Alternative
Thingiverse has long been a popular platform for hobbyists and professionals alike to share and download 3D printable models. However, with an ever-growing number of alternative platforms emerging, users have more choices than ever to find the perfect platform for their needs. In this article, we will explore nine of the best Thingiverse alternatives, examining their unique features, user interface, quality of 3D models, and community support.
1. MyMiniFactory
Those of you are already into 3D Printmaking, MyminiFactory is already a Big name for them. An Independent social platform for ameture and Pro 3D designers, Printmakers, 3D printing enthusiasts and industry professionals.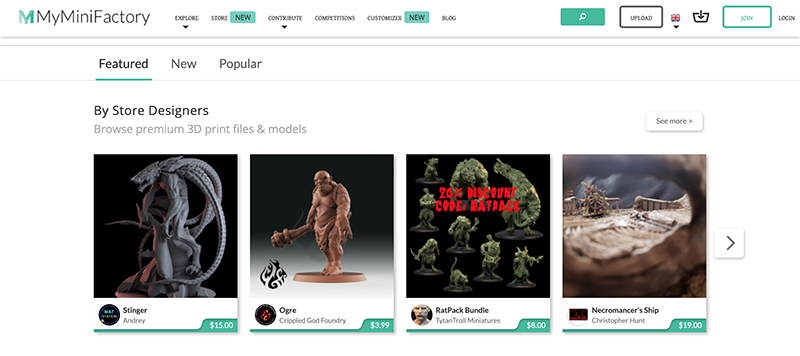 Guaranteed file printability out of their user-generated content is ensured by quality curators of the team. They preferred Quality over quantity, Freedom of Design, persona from every profession, authenticity and Inclusiveness has placed them in a strong place in the 3D print market.
It's also an earning source for independent 3d designers. They have an e-commerce market place for 3D printers, where you can sell your personalized design. Tools and supports are also available to guide you through this journey as a freelance professional in the 3D printing industry.
Here are some key features of MyMiniFactory you might be interested in-
Features:
Designs open for cross-platform which ensures right printing irrespective to any machine
Upload unlimited and Monetize your design and also keep the copyright license
Get the statics to understand how well your content is doing in the competitive market
Round the clock support system
Community and support:
MyMiniFactory has an active community, with users sharing their prints, posting reviews, and collaborating on projects. The platform also offers comprehensive support, including a blog, tutorials, and a dedicated help center.
Visit Website: myminifactory.com
---
2. YouMagine
Overview and unique features
YouMagine is an open-source 3D printing platform developed by Ultimaker, a leading 3D printer manufacturer. The platform features over 15,000 free models, with a focus on fostering a collaborative environment for designers and users to improve and iterate on designs.
User interface and ease of use
YouMagine has a simple and straightforward interface that makes it easy to search for and find 3D models. The platform offers basic filtering options, such as sorting by date and popularity.
Quality of 3D models
The quality of models on YouMagine can vary, but the platform encourages designers to provide detailed documentation and instructions for their models, which helps ensure a better user experience. Additionally, users can leave feedback on models to help others determine the quality and printability of the designs.
Community and support
YouMagine has a supportive community that encourages collaboration and feedback. Designers often share their progress on projects, and users can contribute by providing constructive feedback and suggestions. Support is available through the platform's help center and social media channels.
Visit Website: youmagine.com
---
3. Yeggi
Finding a needle in the haystack is an impossible job. So does locating the right 3D printable files for your work can be a daunting task. Instead of browsing thousands of websites and asking your friends, how about a dedicated search-engine for 3D print models?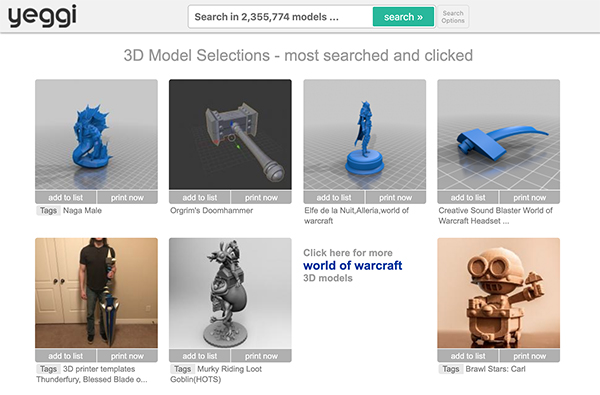 Yes! Exactly! People call it the google for the 3D print models. It crawls through the 3D printing-related websites over the web and returns you the best match results against your search query. Industry experts claim that Yeggi now capable of gathering 2.3 million 3D models and the majority of which (89.6%) can be downloaded for free. It also has paid, popular and recently added criteria.
As it is a search engine, it returns all the results that might not be well-curated. You have to do your own research to curate and locate the exact files you have been looking for.
Features:
Collects data from all over the 3D printing community and returns search results
Only printable models in the result
Easy site implementation
No seo effect
Visit Website: yeggi.com
---
4. PinShape
A 3D printing community marketplace. A platform to learn, share and explore a wide range of highly curated 3D models. Users can also participate in the forum to discuss any topic regarding the genre.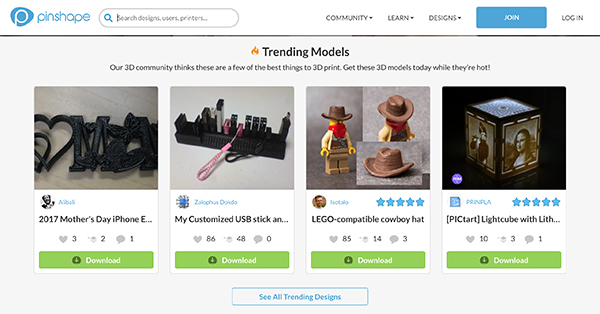 You can also participate in any number of running contests going on the platform to show your exclusive talent. This will help you to cut through the crowd and stand as a successful 3D print designer. You can also be a featured ambassador by the platform which can be very crucial for your career.
It's also a marketplace for designers who want to sell their designs within their desired price range. In a nutshell: learn, share and earn is the base of this platform.
Features:
Community Marketplace
Educational platform
Learning and career-based platform
Visit Website: pinshape.com
---
5. Grabcad
Initially founded as a free CAD library only for the engineering community. But today they claimed to be the biggest community for students, engineers, manufacturers and designers.
Under the grabcad platform, they offer a software called GrabCad Print for Stratasys 3D Printers. An easy to use software which will save your time to print CAD files directly without converting. Seamless control to monitor the process even from a mobile device makes it more user friendly and accessible.
You can easily monitor the printer usage and get in-depth analysis in real-time and have access to multiple printer control from the dashboard.
Feature:
Multi printer control
Robust dashboard system
Time and budget-friendly
Security and business intelligence
Realtime notification
Visit Website: grabcad.com
---
Read More:
– SketchUp alternative
– FreeNas alternatives
---
6. Cults3D
Cults3D is one of the best Thingiverse alternatives. A community for 3D Model design enthusiasts. Designers share and discuss their ideas under the platform to grow their passion and solve their problems. You can share your work for free with fellow 3D printers around the globe or you may also sell your work if you wish to earn from here.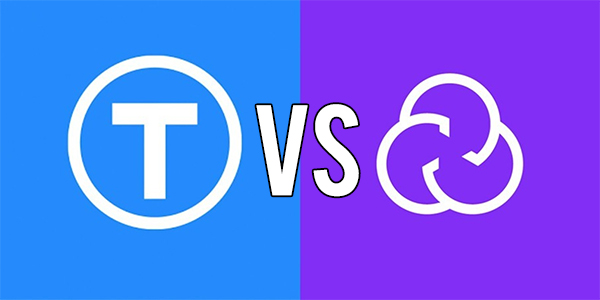 This platform has a very active blog to keep you updated about the 3D printing world and news of what's going on in the industry. This fastest growing 3D design platform got an adult corner as well.
Instead of charging you for the subscription, they charge a 20% commission from whatever you are selling their platform.
Features:
A social network for 3D designers in 3 languages
Tested and ensured designs
Further editable models
Free and paid design
Trusted and vast database
Visit Website: cults3d.com
---
7. Repables
Overview and unique features
Repables is a no-frills 3D printing platform that offers a simple and straightforward way to share and download free 3D models. The platform is entirely free to use and focuses on providing a quick and easy experience for users.
User interface and ease of use
Repables has a minimalistic interface that makes it easy to browse and search for models. Users can sort models by date and popularity, but more advanced filtering options are not available.
Quality of 3D models
Since Repables does not have a verification or review process for models, the quality can vary significantly. Users should rely on community feedback and comments to gauge the quality and printability of a specific model before downloading.
Community and support
Repables has a small but active community of users who provide feedback on models through comments. However, the platform does not offer dedicated support or additional resources like tutorials or a help center.
Visit Website: repables.com
---
8. Fab365
Another reliable marketplace and other best Thingiverse alternatives for 3D printing. It connects the 3D printers and designers directly with the consumer in real-time. If you are a promising and talented 3D designer, then it is a place to earn some guaranteed money.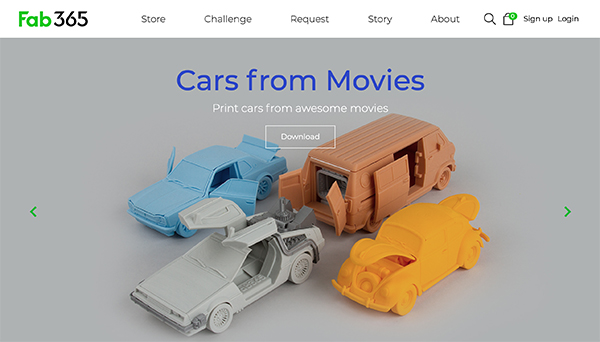 Their store section is totally different from the others we discussed so far. Their foldable models are something different and popular in the industry trend. You will find a wide range of freebies here as well. You can upload to showcase your talent for 3D Designing in the challenge section.
The Korean based 3D Modelling platform is more interested in producing miniature versions of your favorite movie car from your childhood. You will also find some dedicated genres like Architecture, art, robot, home and automobiles in here.
Features:
Foldable design
Different industry-related models
Marketplace for 3D designers to earn money
Visit Website: fab365.net
---
9. CGTrader
If you are a freelance 3D designer who got awesome skills, possibilities are limitless here for you. They transform your 3D Models into real-time AR and VR experience in such a way that customers can relate the usability of the product in their preferable environment and understand it better.
It is a community of 3D designers who participate in forum discussion for a better understanding of the projects they are handling. They also run a blog and news section to keep you updated about the inhouse and 3D Modelling industry.
You can work as a freelance 3D designer under CGTrader and keep 80% of the royalty. You can simply pick a project described by any client and apply for it. Upon successful job completion, you will get paid. Payment protection guaranteed.
It also got an e-store showcasing the models available already. People can simply pick and download after making the payment. Price varies depending on the model they are looking for.
Features:
AR and VR functionality
A freelance hub for 3D designers and printers
Personal portfolio making feature to earn with keeping up to 95% of the royalty
Connect directly with potential clients
Visit Website: cgtrader.com
---
10. Prusa Printers
Last on the list, yet Prusa claims to be the manufacturer of the World's No. 1 3D Printer, Prusa i3. Affordability and reliability have made them the game changer of the industry. The "upgradeability" feature of Prusa is something you wish you could get in every product you purchase in your life. When the new model arrives, you don't have to buy the new one, you can just upgrade. So it's a big money saver.
Other than selling 3D printers, they also run a community of 3D designers under their name. Something more like a Facebook where like-minded designers can form different groups to engage with each other. Though they also have a forum section for the open discussion. Under the blog section, they regularly publish articles on the contemporary issues of the 3D printing industry.
From the shop section, you may order a whole new machine or accessories.
Features:
One of the best printers in the market
Open source facility
Upgradability to new part instead of buying a new machine
Budget-friendly
Industrial model use
Visit Website: prusaprinters.org
---
So that it! Finally, we have come to an end of our featured ten alternatives of Thingiverse. We understand that our choice of making the list depends on the factors that we have taken into account, which may well very much different from yours.
We are very much likely to listen from your perspective. Which platform do you think should have been on the list?
Do comment below mentioning your preferred 3D printing platform and mention why do you like them.
---
Frequently Asked Questions (FAQs)
Why look for Thingiverse alternatives?
Thingiverse alternatives provide additional options for finding 3D models, unique features, and different communities that may better align with your needs and preferences.
Are all Thingiverse alternative platforms free to use?
Most of the platforms mentioned in this article offer both free and paid 3D models, with varying pricing structures depending on the platform.
Can I sell my 3D models on these platforms?
Many of the platforms mentioned, such as Cults3D, Pinshape, and 3DExport, allow designers to sell their 3D models, providing opportunities for monetization.
How do I choose the right Thingiverse alternative for my needs?
Consider factors such as the quality and variety of 3D models, user interface, community support, and any unique features that may be important to you when evaluating a platform.
Can I upload my 3D models to multiple platforms?
Yes, you can upload your 3D models to multiple platforms, as long as you adhere to each platform's terms and conditions.
What factors should I consider when evaluating a 3D printing platform?
Look for a platform with a user-friendly interface, a wide variety of high-quality 3D models, and a supportive community that offers feedback and collaboration opportunities.
How do these platforms ensure the quality of 3D models?
Some platforms, like MyMiniFactory, have a verification process that ensures printability. On other platforms, users can rely on community feedback, ratings, and reviews to assess the quality of a model.
Are there any limitations or restrictions on uploading models to these platforms?
Each platform has its own terms and conditions, which may include restrictions on certain types of content or models. Be sure to review these terms before uploading your models.
How do I get support from the community on a specific platform?
Most platforms have forums, comment sections, or social media channels where users can ask questions, share experiences, and offer feedback to one another.